Parents' Association
Welcome!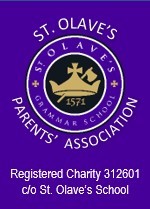 Membership of the St. Olave's Parents' Association is open to all parents of the School (and staff employed at the school) as defined under its constitution and we hope that many of you will wish to actively support our work, participate in our events and contribute financially to PA funds. Please look out for forthcoming PA events and functions. 
---
The role of the Parents' Association 
The primary objective of the PA is to build a community amongst St. Olave's parents and carers and to facilitate that we organise a number of activities and social events each year; e.g. Quiz night, Fun day, Diwali celebrations, Chinese New Year, PA Ball. We also co-ordinate provisioning of refreshments and support for School events including school concerts and functions, parents' evenings etc.
The PA also raises vital funds to support the school in the provision of facilities and equipment that assist directly in the education of our children. We are quite proud that St. Olave's has a very active parents' community and we have supported some very important projects in addition to funding wish lists from various departments in the school.
​The organisation of fund raising activities to support the school in the provision of facilities and equipment (not provided by statutory funds) for the benefit of the school. We also co-ordinate the arrangements for collection and return of lost property within the school.
In the past 5 years
We have raised over £338,000 and invested this money directly in the education of our children. Our donations have included equipment and teaching accessories to virtually all departments; e.g. Arts – camera and projector; DT – laser cutting material, VEX kits; Biology, Physics, Chemistry – lab equipment e.g. faraday's law apparatus, magnetic field sensor, oscilloscopes, infrared camera; History/Geography/Economics – books and subscriptions; Maths – laptops; Languages – dictionaries ; PE – table tennis table, rowing machines and so much more.
Please join us
We would very much like to invite you to come along to committee meetings and get involved with the activities of the PA. Also if you would be prepared to help out occasionally (one or two times a year) with refreshments at School functions, or on Saturday morning for Rugby Refreshments, please contact us. 
Unfortunately, 2019-2020 was quite a different year when due to COVID-19, we were forced to cancel various social and fund-raising events. However, it is more important now than ever that we seek new and innovative ways to keep the community together and support one another during these difficult times while continuing to support and further the education of our children. We wish to keep the Olavian community alive even in the most challenging of times and we would love you to join us in our venture. While we are working to organise PA meetings and AGM virtually in the next few weeks, we would love to hear from you on how we can bring everyone together. You can help as little or as much as you wish, we appreciate it all, and there are so many ways to contribute.
 ​Our PA is currently raising funds benefiting all pupils throughout all forms.
Please see submenus for further information
| Zey Kagan  | Amit Singh | Rachael Peek | Sudhir Pandey | Bhawana Sanyal | Omolola Rahman   | Mark McBennett |
| --- | --- | --- | --- | --- | --- | --- |
| Chair of the PA | Vice-Chair | Secretary | Treasurer | Assistant Treasurer | Assistant Secretary | Publicity Officer |